Shenandoah, Daughter of the Stars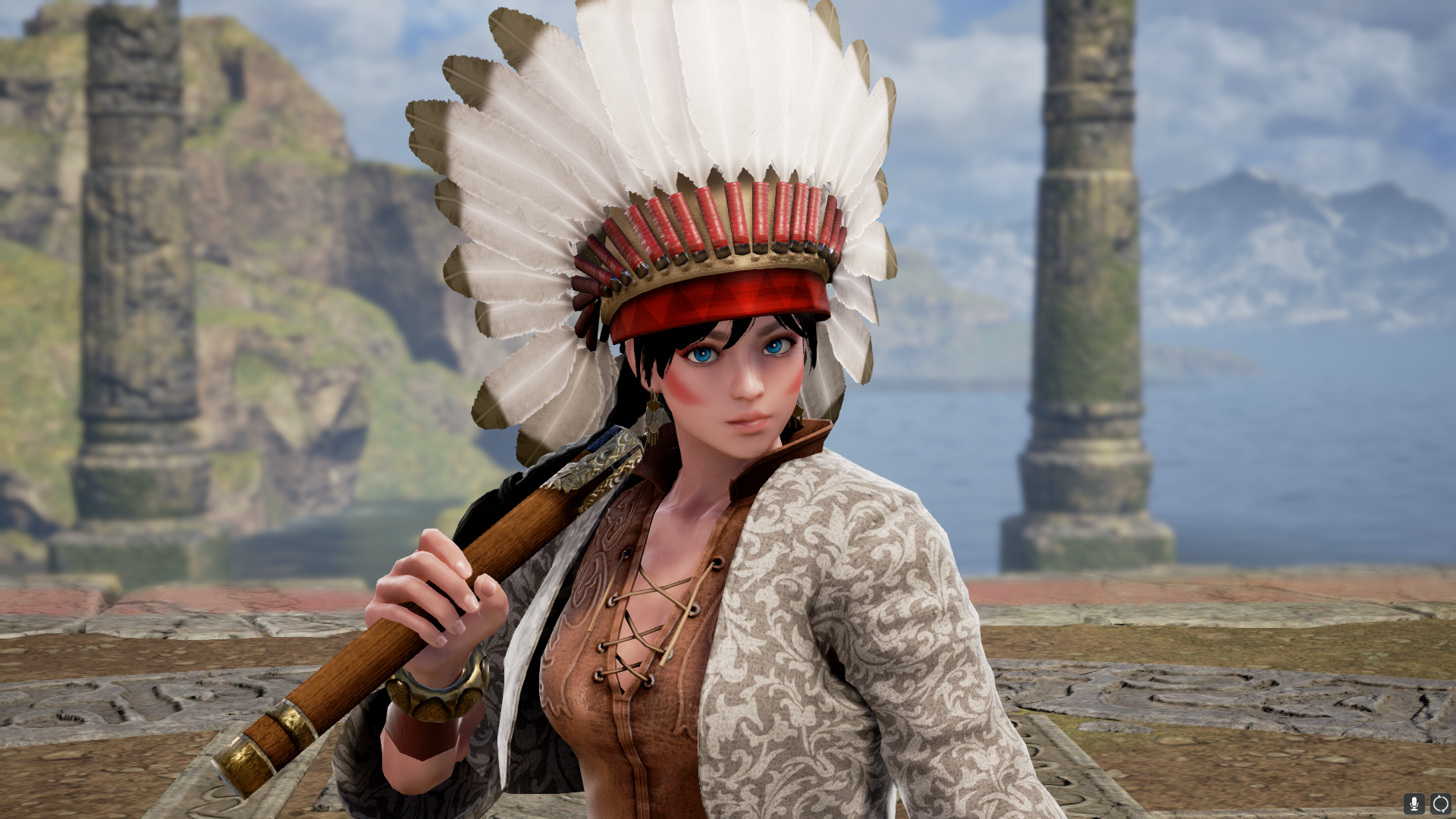 Era: 1777 AD
Age: 17
Home: Land of the Hopi (Modern day north east Arizona, USA)
Heritage: Chief Priestess (Future), Keeper of the Star Shards (Earrings fabricated from pieces of Soul Calibur - a treasured heirloom of her people).
Role: Tragic heroine
Element: Holy
Combat Art: Memories imprinted by Soul Calibur of an legendary warrior deemed most suitable for her physical attributes and temperament. Rudimentary firearm training - inadequate for actual combat.

Daughter of Chief Pontiac of the Hopi, Shenandoah was groomed since birth to become the next Chief Priestess of her tribe. Finding her talents to be more physical than spiritual and a tomboy at heart, she could usually be found rough housing with the boys as often as memorizing the oral traditions of her people, much to the disapproval of her father. Inspired by the ancient tales of heroism and adventure, Shenandoah constantly badgered her father for training in the martial arts, even promising to redouble her efforts at priestess training if he agreed. Destiny, however, cannot be denied. Her latent spiritual power awakened and went out of control when she received the Star Shards during the coming of age ceremony on her 14th birthday. Briefly possessed by Soul Calibur, Shenandoah laid waste to her village in a whirlwind of madness and destruction. Only through the heroic sacrifice of her father was her rampage brought to a tragic end. Banished by her people, Shenandoah spent the next year aimlessly drifting through the American West, her memories of the incident suppressed by Soul Calibur so to preserve the sanity of its vessel. Taking pity on a lost lamp, she was taken in by a Puritan settlement and educated in the ways of the wider world. She learned of the settlers and their struggle for freedom from an oppressive king during this time. Her soul resonated with the colonists' cause, and she resolved to travel east and assist in this "Revolution" in whatever ways she can.