The
media library
we have here at 8WAYRUN started with the best of intentions. It was supposed to be a place where users could find high quality and relevant videos to their interests. And at first, that's what it was; it housed tournament videos, skill projects and more...
However, since then, technology has changed. The ability to record and stream video is open to pretty much anyone. Buy a
Live Gamer Portable
for relatively cheap and you can get started in no time! Because of this, suddenly everyone is producing video and adding it to the media library, instead of just the high profile tournament organizers.
With all this though, we had a problem... Too many videos in the media library meant it was harder for users to find content they were actually interested in. Tournament videos were being pushed down by endless XBL/PSN matches. If that's what you were interested in, then good for you; but I imagine most people don't care about random online matches, or how some unknown player rage-quit after almost getting triple perfected.
So how do we fix this problem? At first, I was thinking about closing the media library for general submission and making it available only for "marquee" videos like tournaments and tutorials. However, people objected to this idea; saying it was elitist. 8WAYRUN was founded to fight against elitism, so they had a point. However, without some sort of elitism, the current problem would remain.
Solution
:
So I decided on a compromise. The media library would remain open for general submission; but focus has been shifted away from single video listings, towards playlists.
Playlists
are a bit different; anyone may create a private or hidden/unlisted playlist; however we will be restricting
public
playlists to tournaments and important series only. This will make it a bit easier to find "marquee" videos, without restricting general submission.
Other New Features
:
If you check the
media library
as of recently, you will see that playlists have taken a more prominent position on the index page. Since playlists are technically more important than single pieces of media, they are larger and easier to spot than individual media.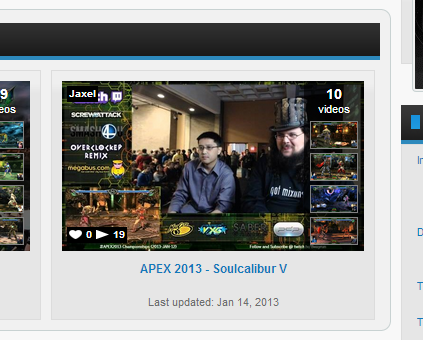 You will also find a series of new sorting options throughout the library. In addition to "recent" and "popular" sorting; there is now a "trending" sort. Trending sorting is similar to popular sorting; except that older items are slowly weeded out.

Keyword/Character tagging has also changed a bit. In the past, only moderators and the original submitter could tag a video with the characters in that video. Because of this, there are often videos with missing tags, or completely untagged altogether. Now, any user may tag characters to videos using a nice search interface on the sidebar of each video.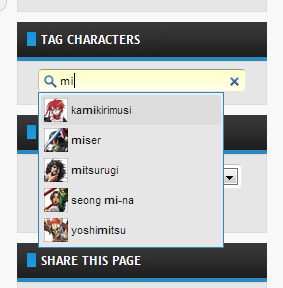 Speaking of keyword changes... In the past, each keyword had it's own page; these were essentially static and never changed. History has shown me that these pages were kind of useless. So now keywords have been rewritten instead to be "search filters". On any video list page, you can now add keywords as search filters to limit results. In addition, you can add multiple keywords to a single search. So now if you wanted to see videos that feature
both
Talim
and
Taki, you could do it easily!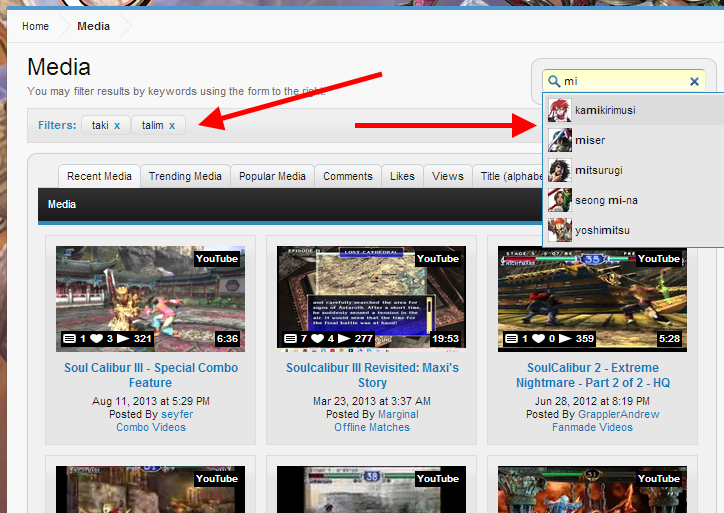 And finally, there is a new link on the navigation bar called "
Your Media
". This link will take you to a personal viewer for all your media and playlists within the media library. From there you can do batch changes to your media and playlists; as well as add multiple media to a single playlist at once.
Other Notes
:
Sometime in the future I will be clearing out the "Tournaments" sub-categories. These sub-categories were put in place before the playlist system was implemented. With the new playlist system, these sub-categories are not needed; and further promote elitism. All media within these sub-categories will be moved into the "Tournaments" category.
A lot of these changes have to do with javascript files. Depending on your browser settings and how heavily they cache javascript files; it may be a few hours/days until you get the new changes (unless you force refresh your cache). Until you receive the new files, these changes may appear broken.
Last edited: