I told myself I wouldn't make a CaS thread until I reached player level 99 and unlocked all of the parts. Well, here we are. Feel free to be as critical as you can; I appreciate constructive criticism much more than sugar coating.
Table of Contents
Originals
Pascusio
Celia
Wrath
Ken
Hiro
Felicia
Rosa
Milya
Celia Lucida
Pascusio Excelsius
Yoko
Kichiro
Jack McClellan
Old Regular Characters
Amy
Cassandra
Cassandra ver. 2
Female Hwang
Kilik
Li Long
Seung Mi-na
Sophitia
Taki
Talim
Talim c. 1607
Xianghua
Female Yun-Seong
Zasalamel
Rock
Setsuka
Recreations
Squall
Gundam
Mario
Luigi
Hunter
Huntress
Don Quixote
Manny Pacquiao
Mike Bison/Balrog/Boxer
Lapu-Lapu
Bangoo
Dawn
Mr. Gangnam
Chie Satonaka
Yukiko Amagi
Teenage Nanako Dojima
Mitsuru Kirijo
Alicia Melchiott
Selvaria Bles
Parappa the Rapper
Beat
Gum
Quailman
Black Mage
BK-201
Just For Fun
Bathrobe Samurai
Genericus
Guy Dudeman
Captain Fabulous
Captain Fabulous: Dress
Captain Fabulous: Cowboy
Captain Fabulous: Pride Parade
Captain Fabulous: Kitten
Captain Fabulous: Japanese
Justice Man!
Femtroklos
Japanese Pyrrha
The Gorton's Fisherman
CHICKEN.
The Battles of La Naval
Armando Castillo de Gonzaga
Wilhelmina Gelens Merten
Javier Santa Cruz
Clara Lucia Brillante
Habagat
Mariano Nicolas
Regular Character Joke Alternates
Uncle Samtroklos
PKMN Trainer Z. W. E. I.
Clumsy Maid Pyrrha
Cheerleader Natsu
Jetpack Algol
Pyrrha Omega: So Red
Mickey Mouse Leixia
Professor Viola
Crazy Bird Lady Tira
Elysium: Pat's Oedipus Complex
Emo Siegfried
Ivy Poppins
"Alpha" Patroklos/Fratroklos
Short Trunks (KING) Experiments
Regular Character Recolors
Alpha Patroklos Blue and Gold 1P
Alpha Patroklos Blue and Gold 2P
Raphael Blue and Gold 1P
Pyrrha Blue and Gold 1P
Natsu Blue and Gold 1P
Cervantes Blue and Gold 1P
Leixia Blue and Gold 1P and 2P
Pyrrha Omega Blue and Gold
Alpha/Patroklos (White-Blue, Black-Gold, Red-Gold, Omega, Irish, Black Ice, Desert Gold, Thalassan)
Leixia (Sea, Flame, Snow, Rose, Leaf)
Pyrrha/Omega (Alpha, Black-Gold, Sophitia SC1/2 1P, Hellfire, Cassandra SC4 1P, Elizabeth/Alice, Sophitia SC3 2P, Cassandra SC3 1P)
Raphael (Black-White, SC2 1P)
Pyrrha Omega Nightmare Colors
Originals
UPDATE 1/27/12
Not really much backstory to this one, I'm afraid. Whenever a game has a custom character mode, I usually make a self-insert character. I guess I just thought of what I'd look like if I were a swordsman in the late 16th-early 17th century and had it fit with my main fighting style.
Design Notes:
- Credit goes to Gatsu for the use of Feathers of Strength as shoulder armor. The idea was stolen from his Trishna chracter, seen here:
http://8wayrun.com/threads/gatsus-official-temple-of-teh-random-cas-stuff.11076/page-4
- The Student's Coat and Leather Wrap combine together to create an open longcoat loosely bound together at the waist
- The eye sticker's bump mapping is used in conjunction with a pair of Rabbit Ears to create a collar for the Long-Sleeved Top.
- The tie was colored white to complement the wings sticker around the collar and front.
- The denim pocket sticker was used to impart a shape to the coat that cuts off midthigh and tapers to a lower point towards the back.
- Wings stickers on either side of the Leather Wrap are placed behind the denim pocket sticker to give the appearance of wings peeking out under the coat on a second layer of cloth.
- Subtle patterns on the Long-Sleeved Top, the Yoga Pants, and the Rocker's Gloves give texture at close distances while blending into solid colors at farther distances and in-game.
- A few of my proclivities can be seen in this CaS. One was already mentioned; I'm a fan of Victorian/Colonial American/ceremonial military-style wardrobe. Navy blue is my favorite color and the blue, gold, and white color palette is my favorite color scheme. The wing and feather designs reflect my fondness for the air, the sky, and flight.
UPDATE 6/5/12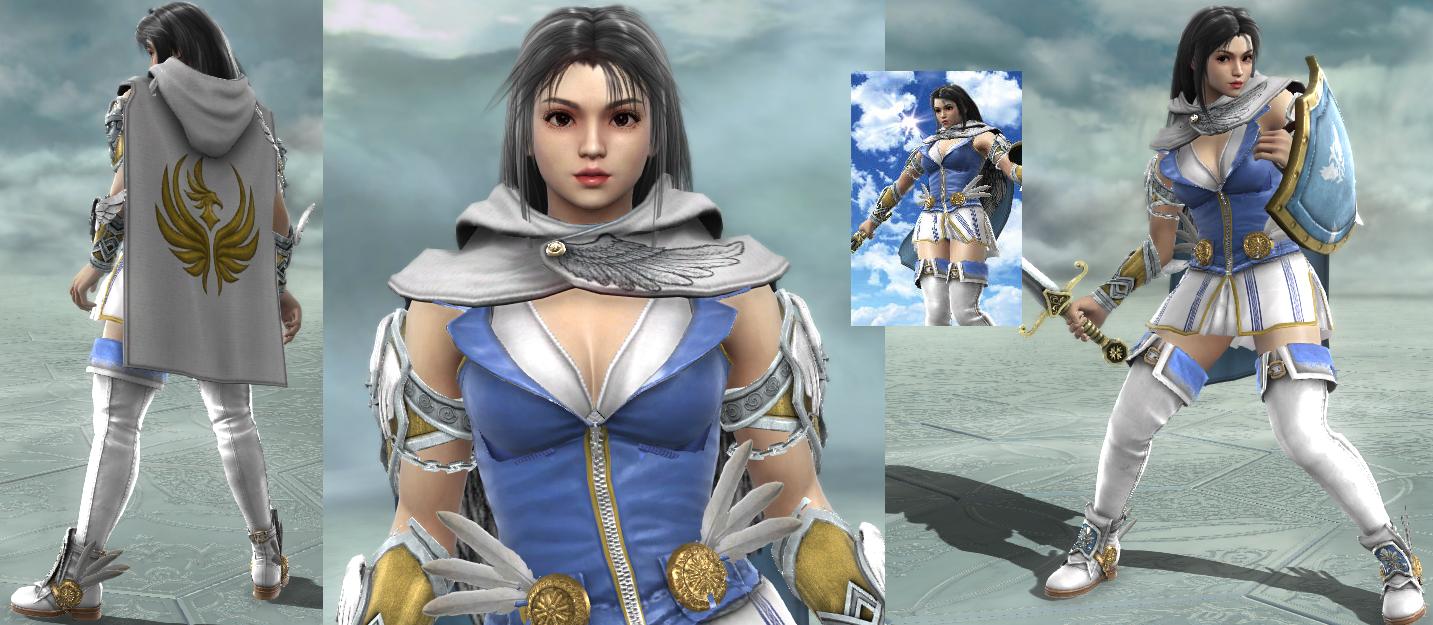 Design notes:
- Back in SC4, I picked up Cassy as a main, so I went and made a CaS for that fighting style, too. I based it on a genderbend of my main CaS, so some of the color scheme and design ideas are similar between her and Pascusio.
- Motif 59 was used to create a vest-skirt divide and as a figure-flattering technique.
- The bottom of Isis' Breastplate stickes out of the Nurse's Uniform, so I colored it to blend in and stuck a white, upside triangle sticker to the exposed part by view.
- Motif 22 was used on the front of the cape, with the left wing covered by a white square, leaving the right wing exposed.
- This design is heaven-themed, so I messed around a little bit with Goddess' Feather Brooch.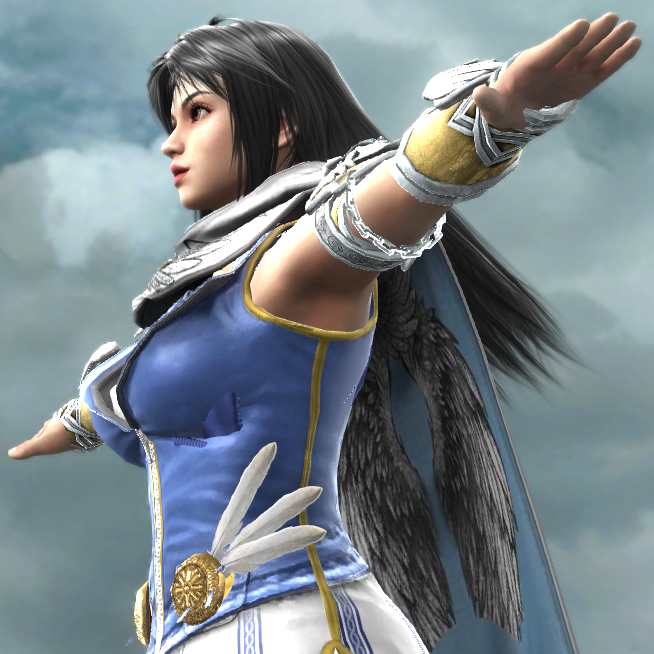 - I stuck that sticker to the inside of the cape to give a little bit of an illusion that she had angel wings, furthering the heaven theme. I wanted it to be a subtle touch, but unfortunately, it's so subtle that they're hardly noticeable in battle. It still feels nice to know that it's there, though.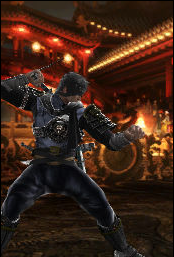 This design is actually my cousin's. As such, I can't give any background on this one, either. It's too nice to leave out, though.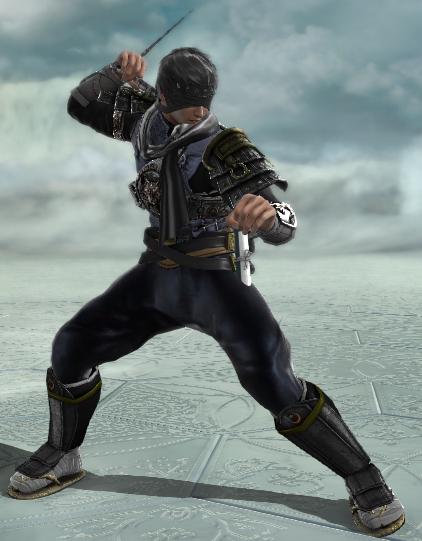 I'm glad I was able to talk him out of a red-and-black color scheme. As you may have seen already, I'm quite partial to blue, but I think the blue-and-black works well, here.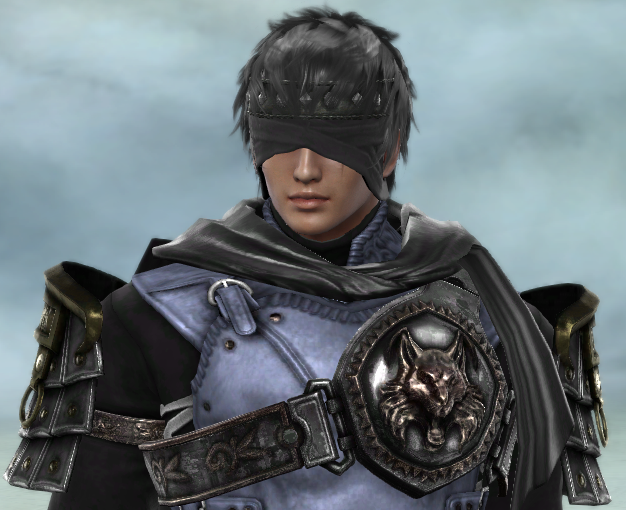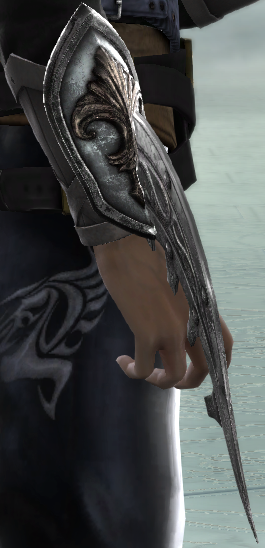 He wears a wristblade on his right wrist.
That's it, for now. I still have some missing cast and more originals I want to share. I've given one set of the originals their own setting in the Soul series universe. I'm still writing things out for that one, though. I'm not even sure I should share the writing and just post the characters with some brief background, instead. Either way, that will all make its way here via a later edit, so stay tuned.