New file, new data slots, new CaS. Let's go. Tonight, we have a request from Left4Dead, a historical remake, and a really bad idea I came up with a while back.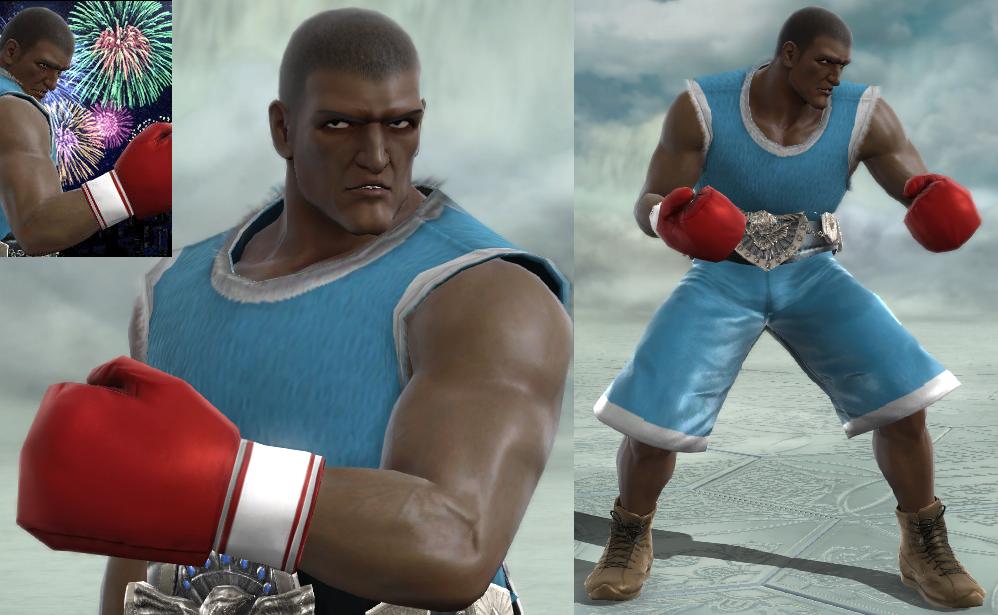 I'm sorry I couldn't make Dudley; I don't see a good way to make his hair. I do have this Mike Bison/Balrog, although he's on the plain side.
Design notes:
- The Boxing Trunks are incompatible with a lot things they shouldn't be, so I had to use the Simple Half-Pants. Three light blue square stickers were used on the white-colored shorts to create the trim.
- Without a belt, the bottom part of the Linen Shirt hangs out of the shorts. None of the belts really looked right, so I settled on the Championship Belt. I don't know if Mike Bison/Balrog ever won any titles, though.
- The jersey over the ripped sleeveless shirt was created with three circle stickers placed by view, one on each shoulder and one around the head.

More flag waving and hyperpatriotism.
Lapu-Lapu
was a chief on Mactan Island in present-day Philippines during the early period of Spanish contact. During the
Battle of Mactan
, Lapu-Lapu and his warriors, armed with melee weapons, faced off against Ferdinand Magellan and Spanish soldiers, armed with guns. The result was a victory for Lapu-Lapu and his men, as they ended up killing Magellan. Nowadays, Lapu-Lapu is celebrated as the first Filipino National Hero.
Design notes:
- The Turtle Shell is used here as a shield. I used the tiger stripe pattern to give it a wood grain texture. Also, it has to sit high up from the arm in order for it to cover the actual shield.
- The Arabian Vest was given a three-color checkered pattern, then covered with square and circle stickers, leaving just enough of the pattern underneath exposed to yield a triangle pattern along the edge.
- Square stickers were to partially cover-up the multi-thickness stripe pattern on the Slit Skirt.
Here in the US, there's a line of frozen seafood called Gorton's. Their mascot-logo dudeguy appears on each bag or box of their products, as seen in
this commercial
, so he's more-or-less an easily recognizable figure for Americans. I don't have any problem with their products, but I personally prefer to cook my own seafood from fresh fish or shellfish.
Design notes:
- A Turtle Shell was set under the Chinese Hat to make the fisherman's hat. Then, I patterned both with the alligator/crocodile skin pattern to help the Turtle Shell merge with the Chinese Hat, which wouldn't have happened otherwise, due the the shell's native texture.
- My idea for this character came from the amount of sea creature-related weapons there are in this game.
I think everyone knows about it already, but just in case, I recently started a CaS challenge/contest:
Distant Worlds: an SCV Regular Cast Alternates Contest
. I want to have a lot of entries to judge for this contest and there are already some really good entries, so please give it a look-see if you haven't already.