MLG Spring Championships were this past weekend (as well as East Coast Throwdown 4) and the results are in! Congratulations to Keev for taking yet another MLG Championships (and Woahhzz for taking yet another East Coast tournament). With the results in the record books, the ranking ladder has been recalculated to reflect the
new standings
.
However, doing some research on the rankings, I'm seeing a few "quirks"; I wouldn't say they are "bugs", because the quirks are actually by design. They actually show not only the strengths of certain players, but explain a few "slights" people may believe exist in the current system.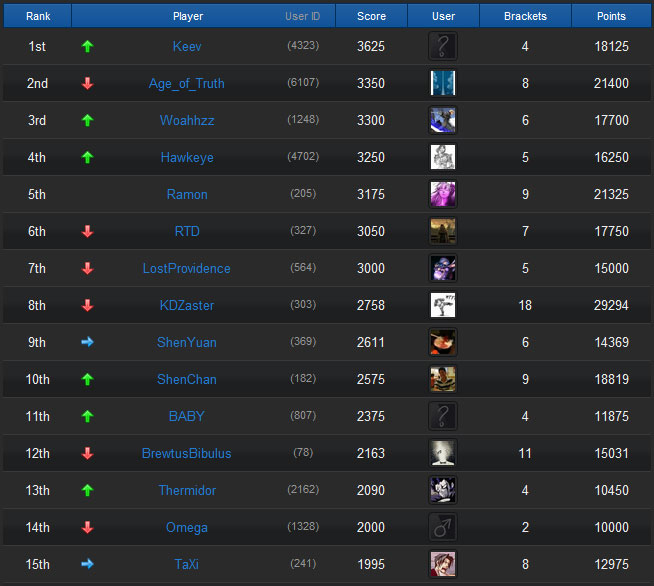 The first think you may see is that
Keev
has rocketted up from fourth to first place. How did he get such a huge jump after only one event? Simple, he has not yet reached the event limit, which right now is 5. Since before MLG, he only had 3 events recorded, he had no other performances to replace; he was going to gain a 100% boost from MLG. In this case, his score went from 2625 to 3625.
The crazy thing is, he is currently ranked #1 with only 4 events recorded! With the current system, the max score a player can achieve is a perfect 5000, if they win 5 majors in a row. Since Keev has only attended 4 majors, his score could be at most 4000. But as you can see, he only has a 3625/4000. Which means not only is he beatable, he has been beaten several times in the past.
So what is this "slight" I am talking about? Well in the system, there is a player who has won every major he has attended; including those that Keev attended. He is the ONLY player in the ladder with a "perfect" score. But he is only ranked 14th... that would be:
Omega
. Why isn't Omega ranked higher? Because he has only been to two events, the max score he could achieve is 2000; which he has.
Even if Omega comes and destroys the competition at EVO next month, he will only earn a 1000 point boost to his final score bringing him to a perfect 3000. If Omega wins, and Keev manages somehow to get dead last, Keev will still be ranked higher. While this is a "quirk" to the ranking system, it is by design. The ranking system is scaled to prevent score padding by high attendance, but at the same time, it punishes those who don't attend enough events.
Doing some theoretical numbers based on the ladder, unless Keev is unable to make it into top 5 at EVO, it would be impossible for anyone to dethrone him in the current standings. Since he has only attended 4 events, he will gain a 100% boost of the points from EVO. If he gets top 5, there will be no one who can reach his score of 4125+; even if they manage to win.
Below is a chart of player's scores if they win EVO. If each of these players win, these will be their final scores. These are the ONLY players who can possibly dethrone Keev.
Age_of_Truth (UK) - 3930
Woahhzz (PA, USA) - 4050
Hawkeye (IL, USA) - 3875
Ramon (NY, USA) - 3785
RTD (GA, USA) - 3750
LostProvidence (IL, USA) - 3750
Keev's score is currently 3625. Below is a list of his possible scores depending on his results at EVO:
1st - 4625
2nd - 4500
3rd - 4375
4th - 4250
5th - 4125
7th - 4000
Of course, there are based on CURRENT standings. Remember that there are majors between now and EVO... so I can image that the player who wins CEO (which I expect Omega to show up to) will get a significant boost to their score before EVO.